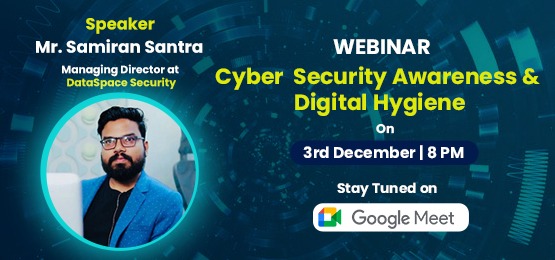 Webinar on Cyber Security Awareness & Digital Hygiene
Join DataSpace Academy for this career-building workshop
Speaker: Samiran Santra
Webinar on Cyber Security Awareness & Digital Hygiene
Event name: Webinar on Cybersecurity Security Awareness & Digital Hygiene

Cybersecurity and ethical hacking are growing, with exponentially rising career opportunities.
Join us for the exclusive free webinar on cybersecurity and ethical hacking on 3rd December 2022 at 8.00 pm by Samiran Santra, Managing Director at Dataspace Security. this session could open new doors for your future.
Key Takeaways Of The Session Include
? Certificate of attendance
? Workshop session recording
? Program guide
? Lifetime access to Dataspace Academy Lab
The live session will include a Q&A round as well. Join Dataspace Academy on Saturday, 3rd December 2022 at 8.00 pm for an expert masterclass.
Topics Covered