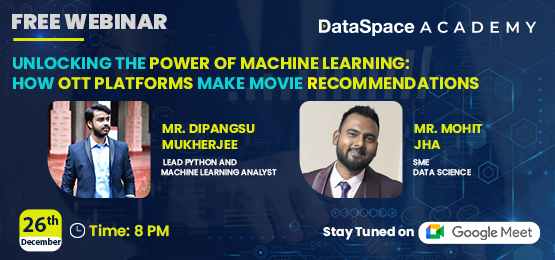 Unlocking the Power of Machine Learning: How OTT Platforms Make Movie Recommendations
Join DataSpace Academy for this career-building workshop
Speaker: Dipangsu Mukherjee
Unlocking the Power of Machine Learning: How OTT Platforms Make Movie Recommendations
Event Date: 26th December 2022
Event Time: 8 PM (IST)

Wonder how Netflix knows your favorite shows? It creates algorithms based on your previous viewing history through Machine learning. Join Dataspace Academy for an exclusive webinar on Data Science and Machine Learning and understand how OTT platforms use it for building recommendations.
Hosted by our lead Python and Machine Learning Analyst, Dipangsu Mukherjee and SME Data Science, Mohit Jha, this webinar will give you an overview on data science, its benefits, and potential growth prospects in the domain.

Register to learn more about:
• Career opportunities in cloud computing
• Comprehensive look at Dataspace Academy's Data Science courses and why they are right for you
• QnA round with expert
• And more…..
Key takeaways from the session include:
• Certificate of attendance
• Program guide
• Session recordings
• Exclusive lab access
Join Dipangsu and Mohit
Monday, December 26th at 8.00 PM IST.
Speaker Profile:
Dipangsu Mukherjee
EXPERIENCE 5 Years experience as a STATISTICAL INVESTIGATOR at MHRD, DELHI
3 Years' experience as PYTHON DEVELOPER at BARGAD SOFT. TECH. PVT. LTD.
Proficient Programming &Software Skills:
Python (Jupiter Notebook, Spyder- anaconda3, Google Collaboratory)
R (Studio and Console)
Power BI
SQL (MySQL, PostgreSQL)
Software and Designing -- MS Word, MS Excel, MS PowerPoint, LaTeX, Beamer.
Operating System -- Windows (7,8,10), Linux (16.04,18.02)
What's more? Connect with Dataspace Academy for insights. Do not miss this opportunity. Register now.
Topics Covered