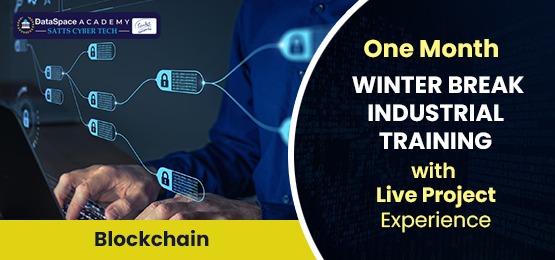 One-Month Winter Internship For Blockchain
Join DataSpace Academy for this career-building workshop
Speaker: Soumya Jas
One-Month Winter Internship For Blockchain
Do you dream of making a career in Blockchain Technology?
Join the exclusive one-month internship program on Blockchain by Dataspace Academy. Starting on 22nd December 2022 at 8.00 pm, this 3-hour internship program could take you closure to your career goals. You can gain the much-needed experience required for making it into the domain.
The internship program will be presided and hosted by Soumya Jas, the lead Security Analyst at Dataspace Academy.
Key Takeaways From The Internship
Gain relevant experience
Hands-on experience in relevant skills
Mentorship
Networking opportunities
Build a strong resume
Blockchain One-Month Course Module
Blockchain Security and Development
Introduction to Blockchain - I (Basics)
Introduction to Blockchain - II (History)
Basic Crypto Primitives – I
Bitcoin Basics – I
Distributed Consensus
Consensus in Bitcoin - I (Mechanism)
Permissioned Blockchain - II (Consensus)
Permissioned Blockchain - IV (Byzantine General Problem)
Permissioned Blockchain - V (Practical Byzantine Fault Tolerance)
Wallets & Smart Contract- Introduction of Metamask & Smart Contract
Installing Metamask
Exploring Metamask
Smart Contract & Ethereum- Introduction
Exploring Remix
Solidity & Compilation using Remix
How to create a Daap
Hyperledger Fabric - Transaction Flow
Blockchain Use Cases:
Blockchain in Financial Service - I (Payments and Secure Trading)
Blockchain in Financial Service - III (Financial Trade)
Revolutionizing Global Trade
Blockchain in Supply Chain - I
Blockchain in Supply Chain - II
Blockchain Security - I (Overview)
Do not miss this opportunity!! Register for the program by December 10, 2022
Topics Covered