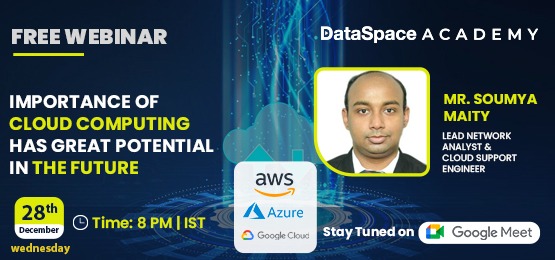 Importance Of Cloud Computing Has Great Potential In The Future
Join DataSpace Academy for this career-building workshop
Speaker: Soumya Maity
Importance Of Cloud Computing Has Great Potential In The Future
Event Date: 28th December 2022

Event Time: 8 PM onwards

Importance Of Cloud Computing Has Great Potential In The Future

Join Dataspace Academy for a special webinar on Cloud Computing and understand its potential in building a bright future. Hosted by our lead Network Analyst & Cloud Support Engineer, Soumya Maity, this webinar will give you an overview of cloud computing, its benefits, and potential growth prospects in the domain.

Register to learn more about:
• Career opportunities in cloud computing
• Comprehensive look at Dataspace Academy's Networking & Cloud Computing Courses and why they are right for you
• QnA round with expert
• And more…..
Key takeaways from the session include:
• Certificate of attendance
• Program guide
• Session recordings
• Exclusive lab access
Join Soumya on Wednesday, December 28th at 8.00 PM IST.
Trainer Profile:
Soumya Maity
Lead Network Analyst & Cloud Support Engineer
IT expert Soumya Maity has more than 2.5+ years of experience in the field of Hardware & Network troubleshooting. Also, he has experience in AWS.
Professional Qualification:
Master's in Network Administration
AWS Solution Architect
CISCO Certified (CCNA/200-301)
Experience:
Lab assistant in Jetking (Bhawanipur) for 1.5 years project in networking.
Short-term Hardware & Network troubleshooting project in Honeywell Company.
Project on AWS
Working as a Lead Network Analyst & Cloud Support Engineer at Dataspace Security Pvt. Ltd (from Dec-2021)
What's more? Connect with Dataspace Academy for insights. Do not miss this opportunity. Register now.
Thank You in Advance!!
Topics Covered