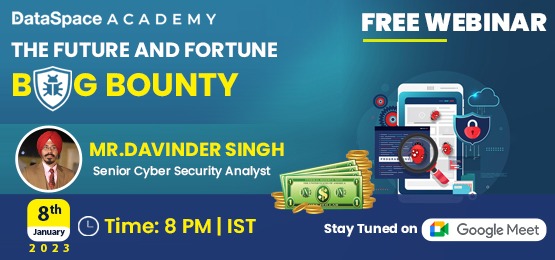 THE FUTURE AND FORTUNE - BUG BOUNTY
Join DataSpace Academy for this career-building workshop
Speaker: Davinder Singh
THE FUTURE AND FORTUNE - BUG BOUNTY
Event Date: 8th January 2023
Event Time: 8 PM (IST)
Bug Bounty
Just a few months ago, one of our close acquaintances reported a bug on a popular social media platform. The report of the same after being analyzed by the company's end was assured and he was paid a hefty amount as a reward. Hackers around the world hunt bugs and in some cases, earn full-time incomes. Bounty programs attract a wide range of hackers with varying skill sets and expertise giving businesses an advantage over tests that may use less experienced security teams to identify vulnerabilities. Bounty programs often complement regular Penetration testing and provide a way for organizations to test their applications' security throughout their development life cycles.
Register and join to know more about "Future and Fortune of Bug Bounty" Hosted by our lead Cybersecurity analyst Davinder Singh, this webinar will give you an overview of the topic:
How to identify bugs/errors/vulnerabilities in a computer program or system?
A comprehensive look at Dataspace Academy's Networking & Cyber Securities courses and why they are suitable for you
QnA round with expert
Key takeaways from the session include:
Certificate of attendance
Program guide
Session recordings
Exclusive lab access
Join Davinder on
Sunday, January 8th at 8.00 PM IST.
Speaker Profile:
Davinder Singh ( Ex Accenture )
Having 7+ years of IT experience.
CEH Certified and Qualys Guard tool certified.
Having experience in Vulnerability Assessment and Manual Web Application Security Testing.
Experience in handling End-End projects, from taking requirements from clients to providing end reports to them.
Hands-on experience in Vulnerability Assessment and Penetration Testing of Web-based Applications and Application Security Testing (DAST & SAST) on web applications.
Sound Knowledge of Performing Web Application and Network Assessment.
Hands-on experience in working with web-based vulnerability assessment scanning tools i.e. Net Sparker and Burp Suite Professional, Nessus.
Experience in Executing tests, reviewing results, and working with the Development team to identify and debug problems.
Having good experience in generating reports on Vulnerability assessment and penetrating testing.
Helping Clients understand the vulnerabilities and providing mitigations to them to resolve the query. Coordinating with the development team for issue closure.
Strong determination and desire, Punctuality with good communication, Interpersonal learning, and Team skills with quick learning capability.
Technical Skills
Commercial scanners/Tools: Acunetix, NetSparker, BurpSuite, WireShark, SQLMap, Metasploit, Zenmap, Nessus, NMap, Nikto, Maltego, zedproxy, HPing2, HPing3 etc.
Hands-on experience with various Browser add‐ons for finding Vulnerabilities in applications.
Sound knowledge and Implementation of Agile & DevSecops Methodologies.
Good knowledge of OWASP TOP 10, SANS Top 25 and WASC THREAT CLASSIFICATION methodologies.
Knowledge of Source Code Analysis and Dynamic Application Analysis.
Sound Knowledge of Burp Suite Professional for Performing Penetration Testing as per requirement.
Profound knowledge on Pen-testing OWASP Top 10 vulnerabilities.
Performing False Positive Analysis on discovered issues.
What's more? Connect with Dataspace Academy for insights. Do not miss this opportunity. Register now.
Topics Covered