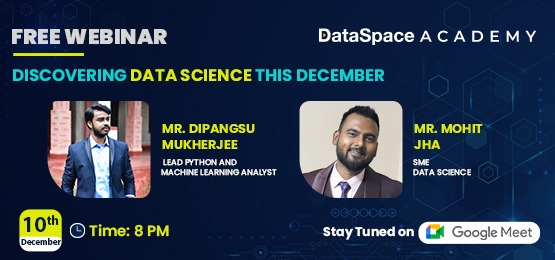 DISCOVERING DATA SCIENCE THIS DECEMBER
Join DataSpace Academy for this career-building workshop
Speaker: Dipangsu Mukherjee
DISCOVERING DATA SCIENCE THIS DECEMBER
Event Date: 10th December 2022

Event Details:
Join Dataspace Academy on Saturday, December 10th 2022, from 8:00 pm onwards for a free webinar on data science. The session will be hosted by Mohit Jha, SME Data science, and Dipangsu Mukherjee, lead Python and Machine Learning Analyst. Register to learn more about:
? Career opportunities in data science
? Comprehensive look on Dataspace Academy's Data science course and why they are right for you
? QnA round with expert
? And more?..

Key takeaways from the session include:
? Certificate of attendance
? Program guide
? Session recordings
? Exclusive lab access

What?s more? Connect with Dataspace Academy for insights. Do not miss this opportunity. Register now.
Topics Covered