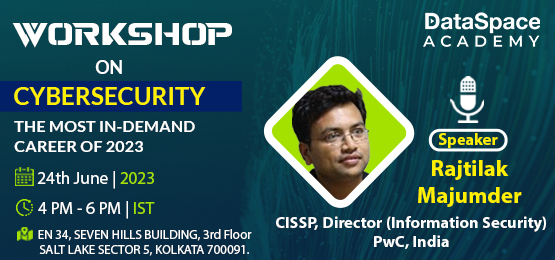 Cybersecurity: The Most In-Demand Career of 2023
Join DataSpace Academy for this career-building workshop
Speaker: Rajtilak Majumder
Cybersecurity: The Most In-Demand Career of 2023
The global cybersecurity industry is predicted to offer 3.5 million job openings by the year of 2025. In regard to the Indian job scene, there are currently around 18,000 cybersecurity-related job openings in the country. Cyberattacks are only soaring with each passing year- on a global scale, cyberattacks increased by around 40% in the year 2022. Increasing digitalisation of data and operations, coupled with devastating impact of rocketing cyber crimes, has propelled the demand for cybersecurity experts big time.
Cybersecurity experts are in huge demand in almost all the leading industries, ranging from BFSI to tech to law enforcement to healthcare to retail, and so on. Government organisations like ED, CBI, are also increasingly recruiting cybersecurity experts.
This workshop aims to shed light on the rewarding career opportunity in the contemporary and future cybersecurity scene.

Takeaways:
Participation certificate
Goodies bag
Refreshments
Keynote Speaker:
Rajtilak Majumder
CISSP, Director (Information Security) PwC, India
A name of big repute in the cybersecurity domain, Rajtilak currently spearheads the Information Security department of PwC, India. Before joining PwC, he had served as Team Lead of Information Security for Accenture and Chief Manager of Information Security Risk and Governance for Srei Infrastructure Finance Limited. As the Director of the Information Security Department in PwC, Rajtilak plays an instrumental role in contributing and managing global functions like Security Hygiene, Firewall Hygiene, Threat Response, and Application Security.
Topics Covered
Growing demand for cybersecurity professionals

How to build a successful career in the cybersecurity domain

Types of job roles in the cybersecurity market

Generous salary and pay package

Top industries hiring cybersecurity professionals