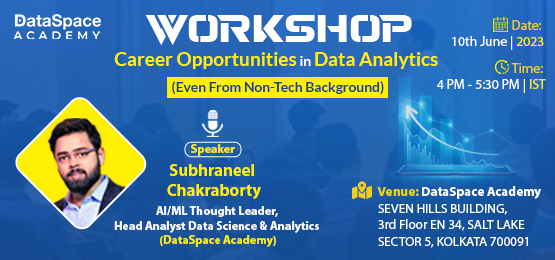 Career Opportunities in Data Analytics in 2023
Join DataSpace Academy for this career-building workshop
Speaker: Subhraneel Chakraborty
Career Opportunities in Data Analytics in 2023
"Why is Data Analytics the BEST Career Option in 2023?"
India is poised to witness 97,000+ job openings for data analysts in the coming couple of years. Data Analytics is one the most in-demand career domains today, assuring strong job security, generous pay package, and promising growth. Modern businesses are struggling with an increasing pool of unorganized data, thereby creating a huge requirement for data analysts in the contemporary job market. The rising demand for data analysts today has led to an inspiring 45% surge in jobs in the Indian market.
A recent report has claimed that the Data Analytics market in India is poised to touch a whopping volume of $118.7 billion by 2026. Almost all the major industries are looking for data analysts, ranging from E-commerce to Healthcare to Online Gaming to Sports to Finance, and more
This workshop aims to shed light on the rewarding career opportunity in the contemporary and future data analytics scene.
Takeaways:
Participation certificate
Goodies bag
Refreshments
Keynote Speaker: Subhraneel Chakraborty
AI/ML Thought Leader,
Head Analyst Data Science & Analytics (DataSpace Academy)
A Senior Data Scientist with around 10 years of experience, Subhraneel is a renowned AI/ML thought leader, NLP & computer vision specialist, and Deep Learning expert. He holds expertise in all major aspects of data science and analytics, including R & Python programming, Statistical concepts, C, Minitab, Advanced Excel, and so on. A highly seasoned Data Analyst, Subhraneel especially works with Econometric Applications, Time Series Analysis, Categorical Regression Analysis , Principal Component Analysis, and Factor Analysis. He is also a much sought-after Tech-talk speaker and trainer who mentors aspiring data science and big data professionals.
Details of the Workshop
Date: June 10, 2023 Time: 4:00 p.m. - 5:30 p.m.
Venue: DataSpace Academy, SEVEN HILLS BUILDING, 3rd Floor, EN 34, SALT LAKE SECTOR 5, KOLKATA 700091.
Grab your seats now!
Topics Covered
Huge prospects offered by the data analytics job market

Rising demand for data analysts

How to build a successful career in the data analytics domain?

Types of job roles in the data analytics market

Generous salary and pay package

Industries hiring data analysts