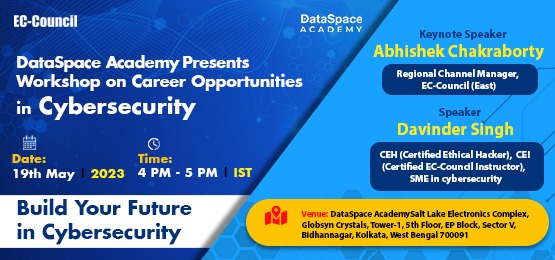 Build Your Future in Cybersecurity
Join DataSpace Academy for this career-building workshop
Speaker: Abhishek Chakraborty
Build Your Future in Cybersecurity
Date: May 19, 2023
Time: 4:00 p.m. - 5:00 p.m.
There is a whopping number of 18,000 cybersecurity-related job openings across India. Moreover, the global cybersecurity industry is predicted to offer 3.5 million job openings by the year of 2025. With cybercrime incidents growing at an alarming rate and businesses moving fast into digitization, the demand for cybersecurity experts is only going to rise in the near future.
Organizations hiring cybersecurity experts are especially looking for CEH v12 (Certified Ethical Hacker) cybersecurity professionals. The CEH v12 certification is a globally-recognized, industry-leading certificate by the EC-Council that validates the proficiency of the professional in the field of cybersecurity. Students and professionals aiming for a proliferating career in cybersecurity should obtain the CEH v12 certification to establish their expertise in ethical hacking, as per the latest industry standards.
This workshop aims to shed light on the rewarding career opportunity in the contemporary and future cybersecurity scene.
Speakers:
Abhishek Chakraborty
Regional Channel Manager, EC Council (East)
A name of big repute in the cybersecurity world, Abhishek Chakraborty is a renowned SAP – SD Certified sales and marketing professional. Backed by 11+ years of experience, Abhishek holds expertise in a wide range of domains, including Channel Management, Team Management, Strategic Planning, Lead Generation, Business Development, Training, and also Digital Marketing.
Davinder Singh
CEH, CEI (Certified EC-Council Instructor), SME in cybersecurity, Technical Head of DataSpace Academy
Davinder is a senior CEH (Certified Ethical Hacker) and CEI-certified cybersecurity professional with around 10 years of experience in ethical hacking and related cybersecurity domains. A leading SME in cybersecurity, Davinder holds sound proficiency in Vulnerability Assessment, Penetration Testing, and Application Security Testing. A dedicated cybersecurity professional, Davinder is well-versed in all the advanced tools and technologies ruling the contemporary cybersecurity niche.
Takeaways:
Participation certificate
Goodies bag
Refreshments
Grab your seats now!!
Topics Covered
Immense potential of the cybersecurity job market

Rising demand for cybersecurity professionals

How to build a successful career in the cybersecurity domain

Types of job roles in the cybersecurity market

Generous salary and pay package

Industries hiring cybersecurity professionals