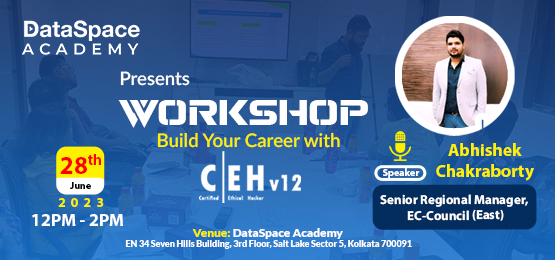 Build Your Career with C|EHv12
Join DataSpace Academy for this career-building workshop
Speaker: Abhishek Chakraborty
Build Your Career with C|EHv12
Cybercrime incidents are predicted to claim a mammoth $105 trillion worth of loss by the year 2025. This alarming surge in cyber attacks has led to a huge demand for Ethical Hackers both in India and all across the world. Organizations have proactively started hiring cybersecurity experts and are especially looking for C|EH v12 (Certified Ethical Hacker) Ethical Hackers.
Accredited by the esteemed EC-Council, the C|EH v12 certification is a globally-recognized, industry-leading certificate that validates the proficiency and skill of a professional Ethical Hacker. Students and professionals aiming for a successful career in Ethical Hacking should obtain the C|EHv12 certification to establish their expertise in ethical hacking, as per the latest industry standards.
This workshop aims to guide the aspiring ethical hackers on the rewarding career scope after completing the C|EHv12 certification.
Takeaways:
Participation certificate
Goodies bag
Refreshments
Keynote Speaker:
Abhishek Chakraborty
Senior Regional Manager, EC Council (East)
A name of big repute in the cybersecurity world, Abhishek Chakraborty is a renowned SAP – SD Certified sales and marketing professional. Backed by 11+ years of experience, Abhishek holds expertise in a wide range of domains, including Channel Management, Team Management, Strategic Planning, Lead Generation, Business Development, Training, and also Digital Marketing.
Topics Covered
Significance of the C|EHv12 certification

Demand for C|EHv12- certified Ethical hackers

Huge career scope for C|EHv12- certified Ethical hackers

Top industries hiring C|EHv12- certified Ethical hackers

Generous salary and pay package